Ella Bergmann-Michel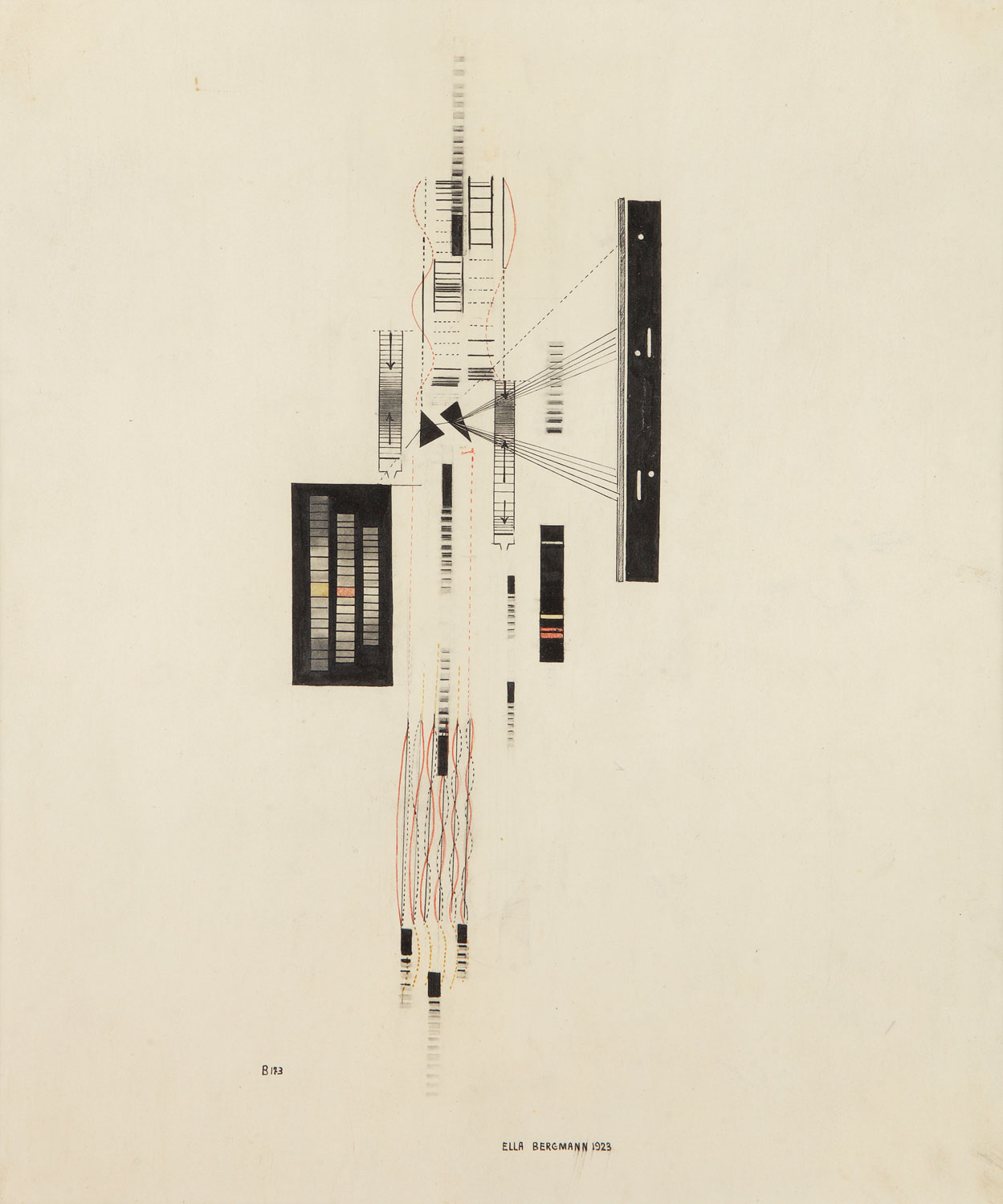 black light, 1923, Aquarell, Gouache, Graphit und Tinte auf Velin,
69,5 x 61,5 cm, Foto: Bertrand Michau
Ella Bergmann-Michel
BLACK LIGHT
To mark the start of the Frankfurt galleries' season, the gallery is dedicating a solo presentation to the artist, filmmaker and photographer Ella Bergmann-Michel (1895-1971). Bergmann-Michel's work is considered to be influenced by Dadaism, Surrealism and Bauhaus.
She lived with her husband Robert Michel and two children in Vockenhausen in the Taunus region from 1920 and was a hostess and friend of Willi Baumeister, László Moholy-Nagy and Kurt Schwitters, among others. The exhibition focuses on woodcuts, collages, ink and pencil drawings by the artist from the years 1917 to 1966.
Ella Bergmann was born in Paderborn in 1895. At the age of 20, she began studying at the "Grand Ducal Saxon College of Fine Arts" in Weimar. There she met Robert Michel . Dissatisfied with their education, they both leave the college. In October 1920 the couple moved to the Schmelzmühle, called "the Schmelz", in Vockenhausen near Eppstein in the Taunus. In 1921 there are first contacts with Kurt Schwitters, from whom a close friendship grew, as well as with the photographer via the association "das neue Frankfurt" Martha Hoepffner, with Ilse Bing, Lászlo Moholy-Nagy, Willy Baumeister, El Lissitzky and Johannes Molzahn.
At the end of the twenties, Ella Bergmann-Michel holds her own studio near the Eschenheimer Turm, where she carries out advertising graphic and photographic commissions. The first films with social themes are made. Together with Paul Seligmann EBM heads the "Working Group for New Film/League for Independent Film". Before the beginning of the war, she is in London several times for two months at a time. During the Nazi regime, artistic activity comes to a standstill. Anticipating coming food shortages, Robert Michel opens a farm with a fish farm, which also saves him from military service. EBM takes on tasks in agriculture and small livestock breeding. Shortly before the end of the war, the artist and her husband Robert lose the works in Ella's Paderborn parental home in a bombing raid.
After the war she runs the "Film-Studio" - from 1950 "Film-Club Frankfurt/M.". She participates in a group exhibition at the Frankfurt Kunstkabinett Hanna Bekker vom Rath, and gives lectures, e.g. at the Zimmergalerie Franck. In 1950 she organised a series of lectures on "50 Years of International Film" in the Amerika-Häuser in Frankfurt, Heidelberg and Marburg. She cultivates her friendships with Willi Baumeister, Mart Stam, Ilse Bing, Richard Scheibe a.o. In 1954, the art historian Herta Wescher dedicated an article to the couple in the French magazine "Art d'aujourd'hui", which initiates a rediscovery. Numerous exhibitions at home and abroad followed, such as at the legendary Frankfurt gallery Dorothea Loehr and Annely Juda Fine Art in London. In 1965 EBM gave a lecture at Loehr's entitled "The Spirit of the Twenties in Frankfurt", which was published as a text in 1967 in Adam Seides magazine "Egoist" in 1967. 1971 Ella Bergmann-Michel dies, her husband in 1983.